Move the photo in all directions for a better view of the apiary.
Ilija Litajkovski - 072 213 138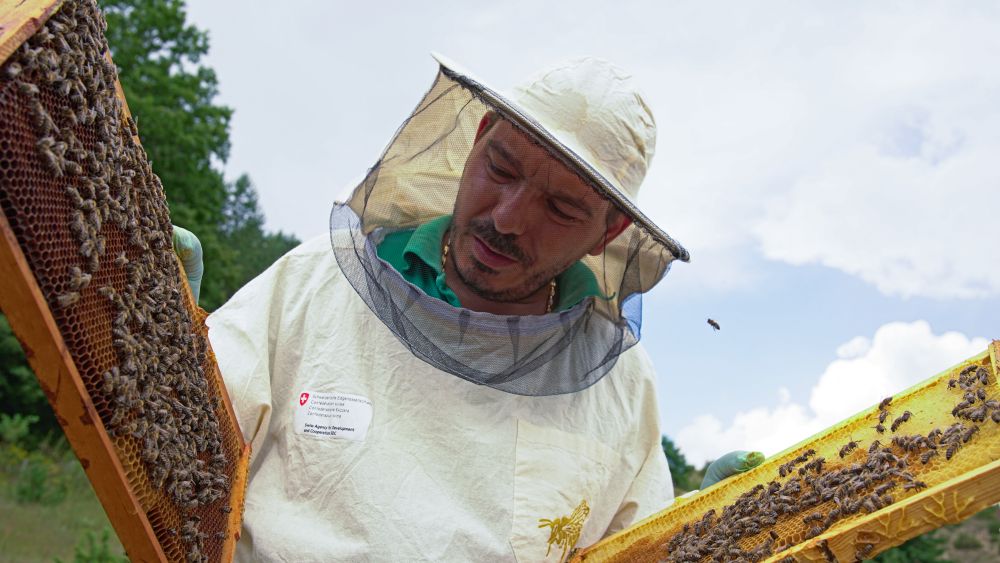 I was born in Berovo in 1985. I started with beekeeping in 2016 with three bee colonies that were given to me by the Nature Conservation Programme, a project by the Swiss Agency for Development and Cooperation, coordinated by Farmahem.
Currently I have two apiaries: one by Lake Berovo and the other one in the village of Budinarci, with a total of 40 honey bee colonies, and I am still growing. I produce mountain and meadow honey, as well as other bee products such as: pollen, bee bread, propolis and royal jelly, which I learned about at the advanced training by the Nature Conservation Progamme. I also plan to produce bee venom, which is in demand. I have huge support from my family for raising the bees and developing the activity, which makes me more professional.
Bees are hardworking, tireless and an integral part of natural biodiversity. Without bees there is no pollination of fruits and plants, thus there would be no life on Earth.
The Maleshevo area is rightly considered the cleanest region, full of forests, meadows and grasslands, with almost no industry and pollution. I am particularly proud that through beekeeping in my native region of Maleshevo I can promote healthy food, tourism and clean environment.
Phone number: 072 213 138